There's a story behind my "something blue" :) Most people have a favorite shirt from their Alma Mater and usually it's not silly like this one but in '05, I was employed by the CREC (Campus Recreation) at WSU, I taught aerobics classes for students and faculty on my lunch hour three days a week. It was a great job for me and I loved it. I had to go to a teambuilding day the weekend before school started, though, and their theme was Back To The Future. They even had a Delorian! Now I really love Michael J Fox and the Back To The Future trilogy is one of my favorite go-to movies. Whenever I need to escape, those are my favorite movies. So I was immediately smitten with this shirt for so many reasons.
That shirt just became my favorite shirt. I wore it in the summer, wore it to workout in, wore it in the winter with a long sleeved t underneath. In the end though, I started wearing it while I was moving and painting and stuff and it just became worn out...with paint stains and miniscule holes, etc. It's still my favorite shirt though, and it's my favorite something blue I own. :) Whenever I wear it, I'm filled with all of those wonderful memories.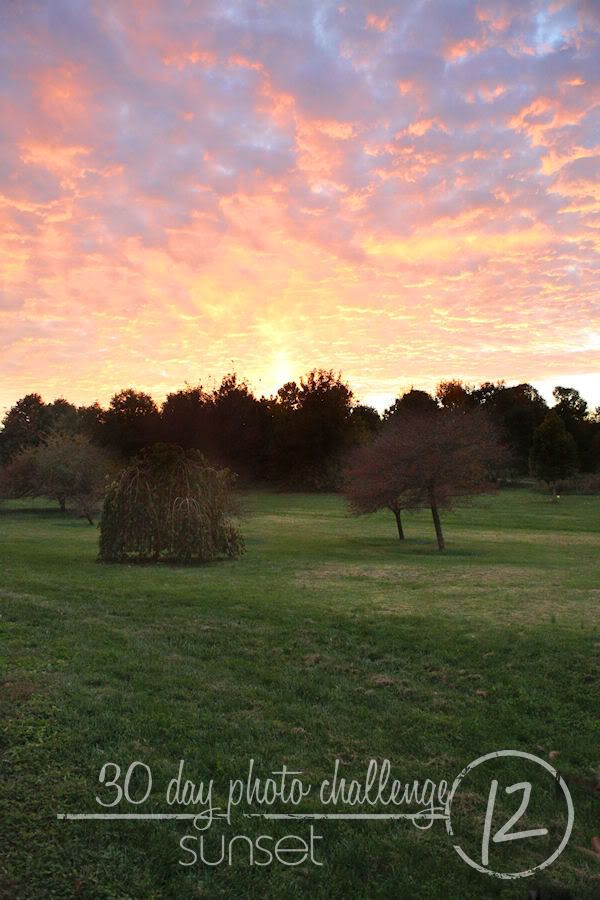 I saw that "sunset" day fell on an evening I work. I work 3pm to 8pm, MWF and a month ago, when getting off work at 8 the sun would have been setting! Nowadays it's setting around 7. So, when we were at the arboretum the other night I got this photo in preparation for today's prompt. I'm NO nature photog, but I really love how this turned out! :)


We are busy, busy, busy getting ready for Naomi's 5th birthday party this weekend. I cannot believe my baby girl is no longer a baby. Oh well, I'll put a brick on Parker's head and maybe he'll quit growing up? ;) No? Ok. How about I just cherish every moment...now

that

I can do!